Site Customizer
Learn how to customize the content and language of the text in the header, footer, and 404 pages.
All the customization discussed here is added through the Customizer. This is found in the left side of the dashboard by hovering over Appearance and selecting Customize. Menus in the header and footer are edited by Administrators only through the Appearance>Menus section.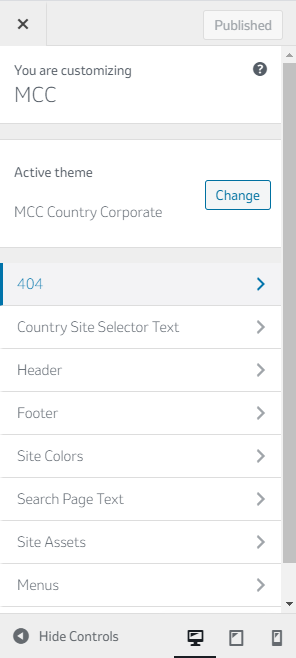 This is the Site Customizer. Individual areas to customize are selected through this menu.
404 Page
The 404 page is what visitors encounter when they enter an invalid URL. The 404 page should always explain that the page was not found, and a link to the homepage. This text is entered in the "404" section of the Site Options page.
Search
There are several options that can be customized or translated in Site Options. These options can be found under "Site Search" and "Search Page Text."
Search Page Text specifies the text that appear when no results are found. Site Search specifies the text that appears in the header and when search is first opened/
Footer
Social links
These are found in the Footer section of the Site Options page. This sections allows editors to add a custom message to the social section, as well as links to individual social media accounts. Editors can add links for local Twitter, Facebook, Instagram, Facebook, YouTube, and LinkedIn. This sections also lets editors add a custom copyright message.
Footer menus
There are 4 menus related to footer content in addition to the social links. All are updated in the Appearance>Menus section, and can only be accessed by administrators.
The "footer menu" location refers to the privacy links above the copyright. The "footer columns 1-3" locations refer to the links between the social link section and the copyright. The description text is unique to these menus, and refers to the paragraph beneath each section.
Header
Header options
There are some additional language options for the sticky header and megamenu in this section on the Site Options page for translation purposes.
Header menus
The header and language menus are updated in the Appearance>Menus section, and can only be accessed by administrators. More direction on language can be found here.
The header menu has some additional options, like language options and a story that can appear in the megamenu, at the bottom of the page.
Logo and favicon
The logo, which appears in the header, and the favicon, which appears in the corner of the browser tab, can be updated here. Image sizes are specified for favicons.